Lake Chelan
Historical Archives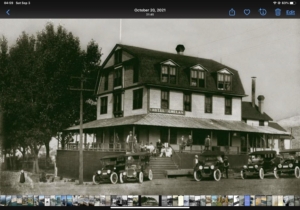 ---
Our 1974 Interview with Jack Goehry –
When we first interviewed Jack Goehry 1n 1974, he was 57 years old.  Jack went on to live another 43 year
The stories of his life, as captured in our interviews, tell a lot about his character and no doubt explain why he was  able to survive 33 Missions and 305 Combat Hours as a  World War II B24 Bomber Pilot, earning  the Distinguished Flying Cross with Cluster, 7 Air Medals,  2 Presidential Unit Citations and 5 Battle Stars.
Jack's combat time was with the 513th Squadron, 376th Bomb Group, stationed in Benghazi, Libya  where he flew critical missions over the Mediterranean Sea to strategic targets in Southern Europe. He was a key aviator in the famous Ploiesti Raid,  one of the toughest air battles of WWII.  His Presidential Citation speaks volumes as it reads, in part;
"On 8 July, 1943 Lieutenant Goehry was pilot of a heavy bombardment aircraft engaged in the bombing of vitally important enemy objectives in Sicily. Immediately after turning off the target the airplane was attacked by six enemy fighter craft. As a result two engines were disabled by cannon fire and subsequent attacks mortally wounded the bombardier, seriously wounded the navigator and three gunners. During the engagement, Lieutenant Goehry so skillfully manoeuvered his plane that his gunners were able to shoot down three enemy aircraft. Further displaying his skill, Lieutenant Goehry piloted his crippled aircraft to a friendly airdrome and successfully crash-landed it without any further injury to crew or damage to the plane. Lieutenant Goehry's courage, skill, and devotion to duty reflect great credit to himself and to our Army Air Force."
Press Play  Below – Turn Up Sound –  Jack Goehry – His life's story – Interviewed in 1974 by Jerry Isenhart & Steve Byquist,
---
Ten years later, 1n 1984, Jack was interviewed by KOZI's lead historian, Scott Brundage.
In this conversation with Jack, KOZI Historian Brundage is able to learn, with a lot more detail,  Jack's memories of the good and the not so good.
More than ever it became apparent that this humble member of the Lake Chelan Community, Jack Goehry,  was an American hero.
Jack shares his story after returning from a  Reunion of Survivors of the Ploiesti Raid,  one of the toughest air battles of WWII
(Click Here for more on the 376th Bombardment Group)
Press  Play  Below – Turn Up Sound

                                      Click on Letter of Citation For Zoomed Enlargement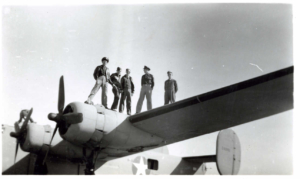 ---
———-  From the Wenatchee World – Dec 24, 2017 ———-
On Sunday, December 17, 2017, Jack Goehry died peacefully, at the age of 100.
He was born in Oak Harbor, WA, January 14, 1917, to Max and Hazel (Neil)
Goehry. Jack's mother passed away in March from the 1918 flu pandemic. At age
three, his father remarried Dee Holden and moved to Brewster, WA, where they
added three siblings: Bob, Stan, and Kay.
One of Jack's first jobs as a teen was building wooden apple boxes.
He built 500 boxes a day for a penny a box, until he graduated from Brewster High School in 1935,
He then attended the University of Washington, where he drove a topless 1929 Model A Ford over
Highway 2.
In November 1941, weeks before the attack on Pearl Harbor, Jack enlisted in
the Army Air Corps. He was a B-24 Bomber Pilot during World War II with the
513th Squadron, 376th Bomb Group. Stationed in Benghazi, Libya the 376th flew
missions over the Mediterranean Sea to strategic targets in Southern Europe.
His combat tour finished with 33 missions and 305 combat hours. Jack was
awarded the Distinguished Flying Cross with Cluster, seven Air Medals, two
Presidential Unit Citations, and five Battle Stars.
After returning from combat in 1943, Major Jack Goehry was assigned as a
B-24 Flight Instructor, where he met and married Betti Lou Schram.
He returned to Brewster, WA, where he worked as a car salesman for the family business.
During the floods of 1948, he flew a two seater Cessna into the Methow Valley,
landing wherever possible, to deliver supplies and transport the injured.
During the Korean War, Jack was called back into service and was stationed in
Bermuda as a hurricane hunter for the U.S. Air Force. Jack married Elinor
"Peg" Clinton, the love of his life, in 1957.
In 1965, Jack and Peg moved from Brewster into their newly built home on Lake
Chelan, where Jack enjoyed riding his snowmobiles on the beach, spending time
with family and friends on the porch, and growing the best tomatoes known to
mankind.
Employment history after military service included diverse job experiences in
Brewster and Chelan, WA, as a car salesman for Goehry's Incorporated, apple
buyer for North Country Fruit, ground crew for Cascade Helicopter, co-owner of
Chelan Concrete, and owner of Rapid Rental Storage.
Jack married Rebecca Creighton in 1994. He enjoyed gardening, reading, skiing,
swimming, flying, snowmobiling, and cocktails at five. Civic duties were a
large part of his life, including 73-year American Legion member, over 45 year
Lion's Club member, and many years as the Lake Chelan Sewer Commissioner.
Jack is survived by his children: Max Goehry, Patty Hughes Schmauder, Kim
(Steve) Olsen, Clint (Maria) Goehry; six grandchildren; four great-
grandchildren; and sister, Kay Welborn.
He was preceded in death by his brothers: Bob and Stan; wives: Elinor "Peg"
Clinton and Rebecca Creighton.
Memorial Services will be held on Saturday, January 6, 2018, at 1:00 p.m., at
Precht Rose Chapel in Chelan, WA. A Remembrance will follow at the Chelan
Senior Center, 534 E. Trow Ave., Chelan, WA. Memorials may be made to Lake
Chelan Lion's Club or Chelan Senior Center. Please leave any thoughts and
memories for the family at www.prechtrose.com. Precht Rose Chapel of Chelan,
WA, is entrusted with the services.
---
Coming Up Soon Bill Evans - Wapato Indians - [...]
Remembering Dan Campbell And the Early History [...]