Updates To Old Bridge Finally Underway
(9-5-2018)
After years of cussing and discussing options to make the "Old Chelan River Bridge" safe for automobiles and pedestrians , the City of Chelan
has officially begun a major project that will do just that. According the the City's Dedicated  Project Web-Site    the first week of construction, crews will be mobilizing equipment, surveying, removing a lamp, unloading water main pipe that will span the bridge, and then installing pipe hangers under the bridge. There will be short intermittent delays to bring vehicles and equipment into the area.
A couple items will be most noticeable to drivers. The first will be the permanent closure of 3rd street from Okanogan to Woodin Avenue (the steep hill section) which will take place Tuesday afternoon. Also, Woodin Avenue Bridge will be changed to a one-way configuration starting Thursday, September 6. Drivers will only be able to approach the bridge from the west side heading toward downtown. Temporary directional devices will be setup and remain in place until the permanent configuration is completed.
Purpose of the project is to make it safer for pedestrians and motorists.  It will become  ONE WAY – INBOUND, and the pedestrian walkways will be expanded and given better protection from vehicular traffic.
The project also includes important enhancements to the Public Dock that is just uplake on the East side of the bridge.
We're actually not certain what final plans were abopted – so just stay with us and we will do some fly-bys as the work progresses.
The Old Bridge will be closed several times between the middle of May and the end of the summer as crews push to do it all in the short
summer season.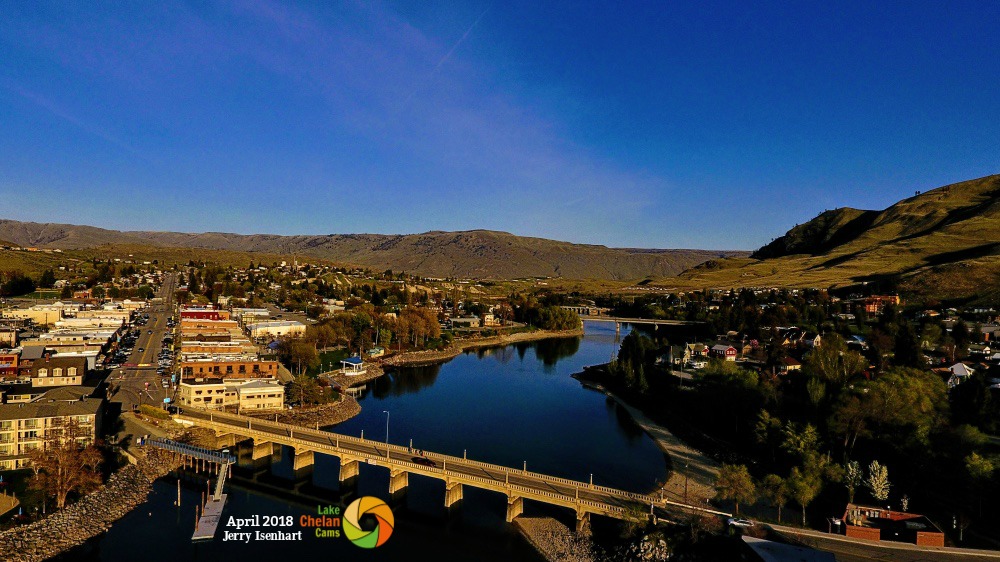 What a gorgeous late afternoon. It almost felt like fall. It was actually April 28, 2018.